State of the Fleet Industry: Top Wholesale Remarketing Trends
IN THIS VIDEO...
Category: Industry Trends
Fleet Topic: Wholesale Remarketing & Resale Trends
URL: https://www.automotive-fleet.com
Summary: Automotive Fleet Editor, Mike Antich speaks with Jeff Krogen, Assistant Vice President of Fleet Strategy at Enterprise Fleet Management to discuss trends in the wholesale used-vehicle remarketing sector and future expectations for resale values. 
Watch the video to understand more about how wholesale remarketing trends affects companies with fleets of vehicles.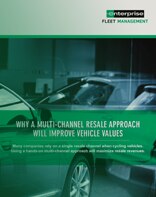 Download Our Whitepaper: Resale Channel Strategies
THANK YOU FOR YOUR INTEREST
Want to learn more? Contact Us for a free Fleet consultation.